Checking Product Comparison – Open a Checking Account – Sierra Central Credit Union
Checking Product Comparison
Dividend
Easy
Budget
On-The-Go
U25
Monthly Service Fee
$8.00
$8.00
$6.00
None*
None for ages 24 and under*
Minimum Balance
None
None
None
None
None
VISA Debit Card
Included with access to 30,000 ATMs nationwide through the CO-OP ATM Network
Included with access to 30,000 ATMs nationwide through the CO-OP ATM Network
Included with access to 30,000 ATMs nationwide through the CO-OP ATM Network
Included with access to 30,000 ATMs nationwide through the CO-OP ATM Network
Included with access to 30,000 ATMs nationwide through the CO-OP ATM Network
Account Details
Unlimited check writing and pays a dividend on balance tiers under and over $2,500
Unlimited check writing
Write up to 15 checks per month. $0.25 for each additional check.
All electronic account, no check writing, deposit by electronic service, eStatements required.*
Write up to 15 checks per month. $0.25 for each additional check.
Discounts
$4.00 Direct Deposit of $1,000

$4.00 Average Balance of $1,000

$2.00 for eStatements

$4.00 Direct Deposit of $1,000

$4.00 Average Balance of $1,000

$2.00 for eStatements

$4.00 Direct Deposit of $1,000

$4.00 Average Balance of $1,000

$2.00 for eStatements

Available for ages 13 and up.  Monthly service fee waived through age 24. Converts to Budget account at age 25
Electronic Services
No Cost Online Banking, Bill Payer*, Mobile Banking with Mobile Deposit and Card Valet
No Cost Online Banking, Bill Payer*, Mobile Banking with Mobile Deposit and Card Valet
No Cost Online Banking, Bill Payer*, Mobile Banking with Mobile Deposit and Card Valet
No Cost Online Banking, Bill Payer*, Mobile Banking with Mobile Deposit and Card Valet
No Cost Online Banking, Bill Payer*, Mobile Banking with Mobile Deposit and Card Valet
*Discounts given will not exceed the cost of the monthly service fee.  U25 monthly service fee waived until age 25, account converts to Budget account. Limited to 15 written checks per month, will be assessed $0.25 per check written beyond the first 15.  $6.95 monthly fee assess for inactive Bill Payer or excess of 25 transaction per month.  On-The-Go account requires eStatements, Online Banking, and Debit Card, written checks or in-branch transactions $2.00 each with a $20 monthly cap.
All transaction/checking accounts have access to Online Banking, Bill Payer, Mobile Banking with Mobile Deposit and the use of Card Valet.
U25 – A checking account for ages 13 up to 24 years!
No monthly service fee until the age of 25 year and then the account will convert to our regular Budget Checking account.
VISA Debit Card
Write up to 15 checks a month
Online Banking
Mobile Banking
Bill Payer
Receive transaction eLerts on your mobile phone with Card Valet.
On-The-Go – Not like a regular checking account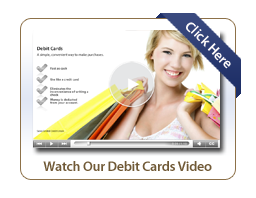 On-The-Go Checking is a VISA debit card account without the hassle of writing checks.
No monthly service fee
All the convenience of a VISA debit card
Electronic Bank Statements
Online Banking, Bill Payer and Mobile Banking
No overdraft fees. We will automatically decline transactions if there is not enough funds in the account
Plus access to Sierra Central ATMs at 17 different branch location in Northern California
Access to 30,000 ATMs nationwide through the CO-OP ATM Network.
Deposits made by electronic services
This account is perfect for those on-the-go.
Budget
Low monthly service fee, No minimum balance requirement
Write up to 15 checks a month ($0.25 fee for each additional check).
Sierra Central VISA debit card
Access to 30,000 ATMs nationwide through the CO-OP ATM network.
Offset the monthly service fee by utilizing Direct Deposit, eStatements, and/or maintain an average monthly balance in the account
Easy
Unlimited access and check writing.
VISA debit card
Access to 30,000 ATMs nationwide through the CO-OP ATM network.
Low monthly service fee
Offset the monthly service fee by utilizing Direct Deposit, eStatements, and/or maintain an average monthly balance in the account.*
Dividend
Unlimited access and check writing
Low monthly service fee.
Pays a base dividend rate on balances $2,499.00 or less and an increase dividend rate on balances of $2,500.00 and higher.
Access to your funds at 30,000 ATMs nationwide through the CO-OP ATM network.
Offset monthly service fee by utilizing Direct Deposit, eStatements, and/or maintain an average monthly balance in the account.*